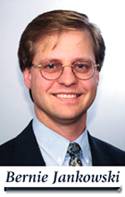 EMPLOYMENT

| | |
| --- | --- |
| 1998 - Present | BERNIE JANKOWSKI |
| | Barrister, Solicitor & Notary Public |
| | specializing in Real Estate, Company Law and estate planning. |
| | |
| 1990 - 1998 | OATLEY, PURSER |
| | Barristers & Solicitors |
| | Barrie, Ontario |
| | Barrister, Solicitor & Notary Public. |
| | |
| 1989 - 1990 | PRODUCERS GROUP INTERNATIONAL, INC. |
| | 199 Avenue Road |
| | Toronto, Ontario |
| | Assistant to in house corporate counsel. |
| | |
| 1988 - 1989 | BOWYER, GREENSLADE & HALL |
| | Barristers & Solicitors |
| | Brampton, Ontario |
| | Student-at-Law. |
| | |
| 1981 - 1987 | GLEN ECHO NURSERIES LTD. |
| | Caledon East, Ontario |
| | Assistant Manager. |
| | |
| 1977 - 1986 | JANKOWSKI B. COMPANY |
| | 20 Limeridge Road |
| | Bramalea, Ontario |
| | Assistant Manager. |
| | |
EDUCATION

| | |
| --- | --- |
| 1990 - Present | CAQ AND LAW SOCIETY of UPPER CANADA |
| | Participant in several programs every year |
| | |
| 1985 - 1988 | OSGOODE HALL LAW SCHOOL |
| | York University, Toronto, Ontario |
| | |
| 1982 - 1985 | YORK UNIVERSITY |
| | Bachelor of Arts : Psychology major |
| | |
MEMBERSHIPS
Canadian Bar Association - Ontario
Ontario Real Estate Lawyers Association
Barrie Real Estate Lawyers Association
TEACHING

| | |
| --- | --- |
| Bar Admission Course: | Instructor for Real Property, Estates and |
| | Corporate Sections |
| Georgian College: | Instructor of Real Property, Estate and |
| | Corporate law for LAW CLERKS |
| | INSTITUTE certification course |





COMMUNITY INVOLVEMENT

Director:
Director and past Chairman for the Simcoe County Brain
Injury Association (SCBIA).
Director:
Simcoe Therapeutic Riding Instruction for
Developing Equestrianship (STRIDE).
Columnist:
Regular Real Estate Law columnist for the Toronto Sun
New Homes Section.
Seminars:
Organizer and contributor of many legal seminars to local Realty Companies, professional groups and to the public.





PERSONAL

Originally from Brampton, but made the move up to Barrie in 1990.
Married to Lynn M. Jankowski and has a wonderful son named
Adam and a daughter named Heather.
Active skier, golfer, canoeist, gardener and computer buff.